Introduction
We would like to welcome you to Art in Stone, a place where a person is provided the rare opportunity to express their memories through the creation of a unique, highly personalized, everlasting memorial. From the moment you step into our facility, you will immediately understand what sets Art in Stone above the rest.
Art in Stone has had the honor of serving the San Francisco Bay Area for almost 3 decades. Being family owned and operated, we understand the pain of loosing a family member. It is this understanding that drives us to make your experience at Art in Stone as comforting as possible. We will listen what made the person special to you, we will listen to what ideas you may have for a memorial, and we will design and create memorial that will stand as a tribute to a life…. one that will be heard for generations to come
About Artist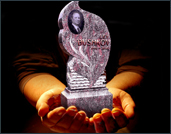 Soon after arriving to United States in the early 1980's, Leon Rader founded Art in Stone, located in Colma California.
Using the skills and secret methodologies he learned from masters throughout Europe, along with his natural artistic ability, Leon Rader introduced a new style of memorialization that has changed the cemetery landscape of Colma forever.
Why Us?
While other companies advertise and praise themselves on being in business anywhere from 50-100 years, they forget to mention that their business were either handed down to them through the generations, or even worse, their businesses have changed ownership numerous times over.

What does this mean to the client?

It means that the artists that founded the companies are no longer there. At Art in Stone, Leon Rader, the original founder and master sculptor, owns and operates the business on a daily basis, overseeing each and every memorial that leaves our studio.